What to expect at Grande Prairie Alliance Church?
As a newcomer, you may have questions or hesitations. You may be seeking details about Christianity; you may or may not have gone to church in the past.
Please know, no matter your background or reason for seeking a church, you are always welcome here.
We want to make sure there are no unexpected surprises for you when you come to the Grande Prairie Alliance Church so we have compiled a list of frequently asked questions. Have one that is not listed? Message us below and we will connect with you.
Sunday Services
What should I wear?
We want you to feel comfortable. On any given Sunday, you will see a mix of suits, jeans, dresses and t-shirts. Join us, just as you are. There is no dress code.
Where should I sit?
In short, anywhere you like. Sit up front, at the back, on the right or left. There is no assigned seating. Seating is available for those in wheelchairs.
What kinds of things are there for my kids?
Our Children's Ministry is called GPAC Kids and is available for newborn to grade 6 and features fun, engaging classes. For your children's safety, parents need to sign their kids in before service at the registration counter, located in our Kids' Wing. Join the GPAC Kids' Facebook group for updates.
What about older kids?
We have an exciting program for your teens called GPAC Youth for grades 7-12. A Jr. High Youth Church class takes place on Sundays in The Landing for grades 7-9 during the second service (September to June).
For all GPAC Youth updates, join their Facebook groups:
Am I going to be asked to give money?
We are honoured to have you as our guest. Offering plates are set out on tables in the Atrium after services for our church family, who give joyfully and willingly as part of our weekly worship. As a guest, don't feel obligated. It is okay to pass by the offering plate without giving.
Will I be singled out as a visitor?
No, we will not put you on the spot. Your comfort is important to us. We would love for you to reach out to us though. Let us know you were here by filling this out, or stop by the Information Center for a small gift instead.
What kind of music can I expect?
You can expect a full worship team that is typically made of vocalists, piano, electric, acoustic and bass guitars, and drums. From traditional hymns to current Christian hits, our worship team ensures musical delights for all.
Do I need a Bible?
Bible verses shared by the Pastor will be displayed on large screens for all to read. If you have a Bible, please feel free to bring it. If you don't have a Bible, visit the Information Center as we would love to provide one at no cost. Another great option is to download the Bible app for free on your phone.
How will I know when to stand or when to sit?
Not knowing what actions are needed at certain times is unnerving. We would like to reassure you, all types of worship are welcome. If you are comfortable sitting, please sit. If you would like to stand, please stand. We also provide instruction during the service.
How long can I expect the service to go?
We try to keep our services to about 70 minutes.
Is there anyone that can pray with me?
Trained and compassionate people are available to pray with you after each service. We encourage those in need of prayer to come forward to either side of the room under the screens where it is a little darker and a prayer team member will pray with you. If a more private setting is preferred, a Prayer Room is available at all times.
What happens after the service ends?
Don't rush away after service ends. We have plenty more for you to check out! Here are some suggestions:
PRAYER
The front of the Auditorium is always open for prayer. Let us know if you would prefer to meet in the Prayer Room.
INFORMATION CENTER
Stop by our Information Center and let us know you are a new guest. We would like to give you a welcome bag and small gift.
ATRIUM
Generally there are various tables set up around the Atrium. Feel free to check them out. The tables are usually promoting upcoming events that you can get involved in.
LIBRARY
From classics to new releases, we have a growing library. There is no cost for borrowing books, just sign up at the Library desk.
TAKE A TOUR
You are welcome to tour around the entire building. Check out our incredible Kids' Wing or The Landing, which is our youth room.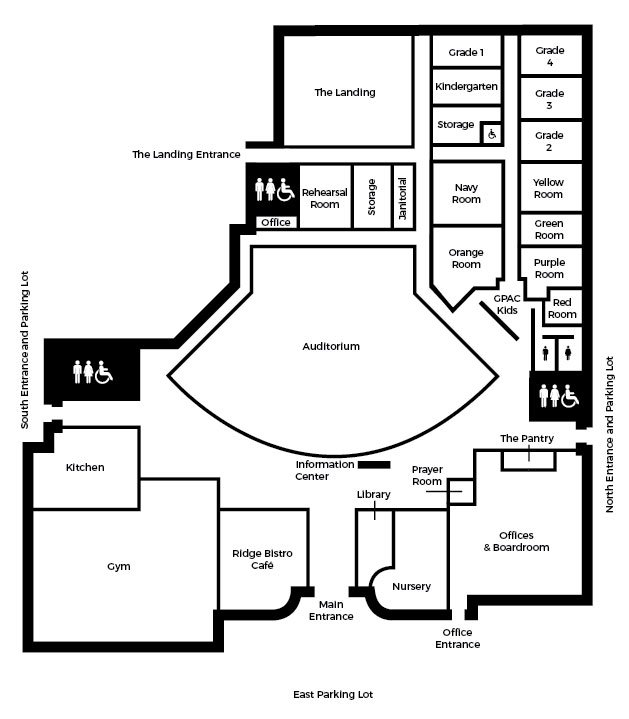 What if I want to go futher?
We look forward to welcoming you this Sunday!